SWANSEA SOUND
Meet the people keeping punk alive in the Valleys. The Low Blows are a punk band that bring their passion for playing to Swansea's very own scene.

background-image:url('')

A home from home for DIY punk bands.
The Low Blows have been playing to the punk scene in Swansea for almost 11 years. Adding new members as they go, and performing mostly in the local popular punk venue, Mozarts. Run by owner Wendy, it's not the biggest venue, but it's just as much about being around your mates as the music – face to face with all of your friends and the community, doing it your own way.





MEET TY
LEAD SINGER

I would never be in a band for the sake of professional music, it's just about hanging out and having fun" - Ty Sloanes
Darryl and Ty started the band, with their most recent member, Zach, joining two years ago. Ty is lead vocals, and Darryl on lead guitar.
NORTH SEA SURFERS

Meet the people who brave the freezing depths to catch the perfect wave. This community in Pease Bay not only surf the north sea, but make their own surfboards by hand.

see their story
Boro Rollers

Meet the people of Middlesbrough who train 'Rollers' in mid-air acrobatics. Their tight knit community always help each other out and it's this local spirit that's lead them to victory in every major competition across the world. Seven days a…

see their story
Black Country Fusion

Meet the team which doesn't discriminate. Black Country Fusion FC prides itself on being an LGBTQ+ team, and the community of Wednesfield prides itself on them.

see their story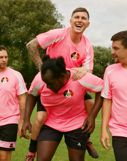 Discover the stories celebrating those who are Made Local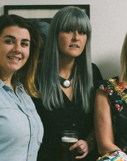 Apply to the fund and we will help some of you make the most of your story.