MORE THAN

A GAME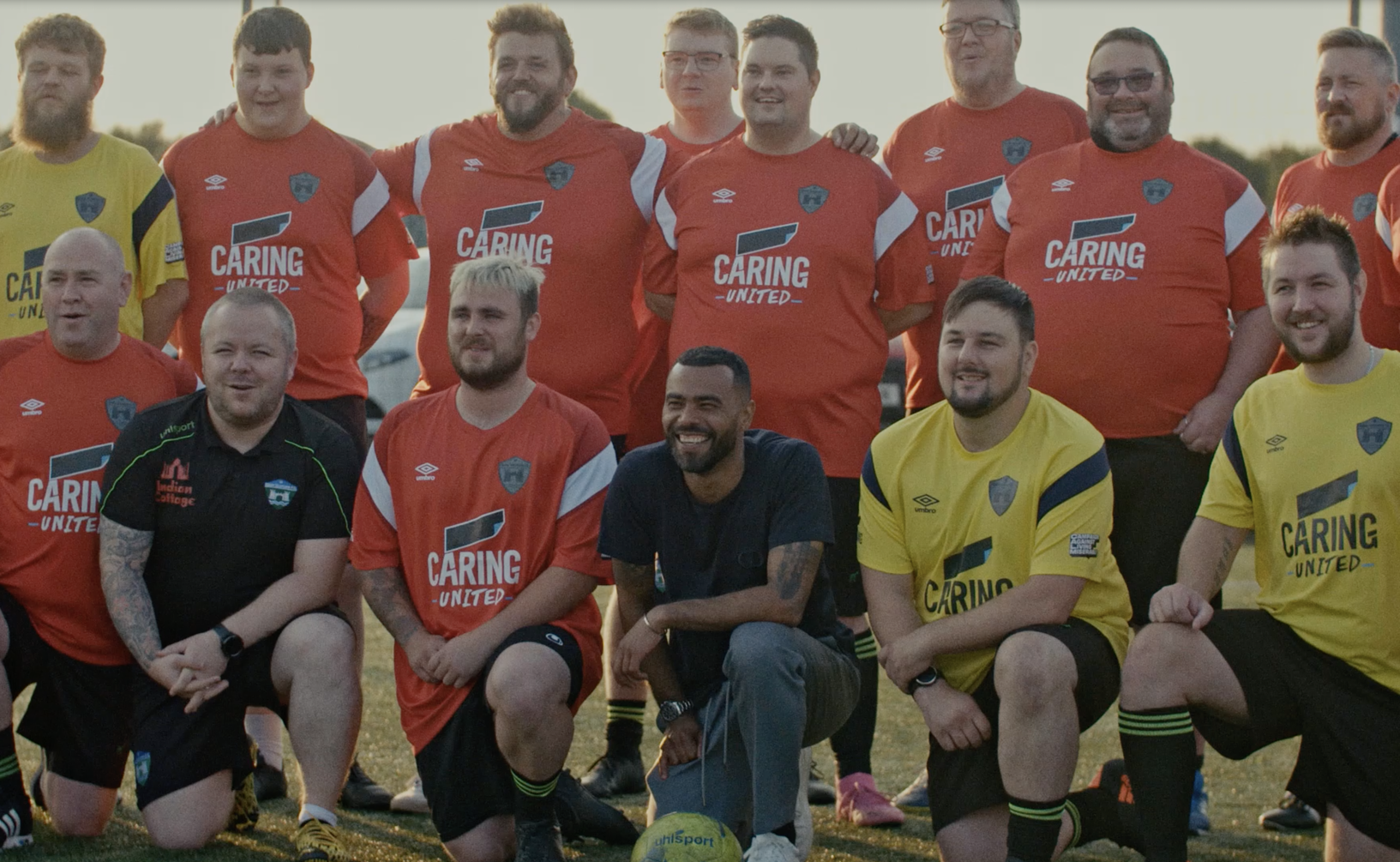 CALM and Carling have teamed up to shine a light on the ordinary people doing incredible things in grassroots football. The ones who show that football is more than a game. Who remind us of the power football can have to bring communities together and build bonds. How it shows there's always someone on your side.
With the help of Ashley Cole we're going to tell the tales of the people who have gone above and beyond - up and down the country, on and off the pitch. The captains, right backs and gaffers who are more than a player.
They're the ones leading from the front. The ones at the heart of their club and their community, using their passion to make a real, life-changing difference.
So you'll meet a team of over 50s in Grimsby, a women's team in Sheffield putting mental health at the heart of what they do, a team of dads who support other dads and a side that helps support LGBTQ+ rights
What is Caring United? It's More than a Team.
You see, football for us is about being part of something. A reason to get together, do what you love and feel better for it. Because we know that when that whistle blows for kick off nothing else matters: not your job, not your stress, not your bills, not your relationships. And we want to make sure that after the final whistle goes we're all there for each other too.
And warming up in the freezing cold, the nerves of the first whistle, or taking that dirty bag of kit home to wash again... well, they're a small price to pay for being part of something bigger. And we wanted to recognise the great work these teams do. Because these sides are more than a team. These sides are part of Caring United. Like with Denny Warriors in the film above, you'll see that in what they do and you'll see that on their kit.
And we want more teams to become part of Caring United. We'll help these teams go even further. They'll be a brand spanking new kit and we'll be getting players Mental Health First Aid trained too. Because when we say More Than A Team, we really mean it.
Become part of Caring United
There are 1.8 million amateur footballers in the UK and we want to find the teams that are making a difference. You'll get loads of support to build a club that sticks together in the good and bad times, not to mention new kits, mental health training, and a stronger club. Follow the link below to get involved.
Find out more at:https://www.thecalmzone.net/morethanagame/




*T&Cs: Open to Grass Roots Football Clubs in the UK (aged 25 and over). Applications close on 17.12.2021. 15 teams to be selected. Caring United package includes: Home and Away Caring United Kits (x17), Training Jackets (x17), Equipment Bundle, Mental Health First Aid Training for 2 team members. Successful teams will be contacted via email by 31.01.2022. Full T&Cs apply: https://www.thecalmzone.net/morethanagame/